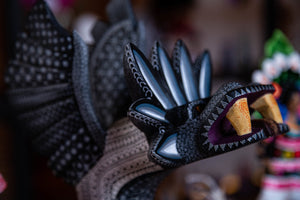 "When children begin to paint, they don't draw "grecas", they draw animals or flowers, the things that are in their environment. When they grow up, they draw patterns found on flowers, or trees. It is your life that is transmitted in these pieces," says Frida.
The relevance of the artisans in Oaxaca is undeniable. Oaxaca is one of the states with the most diverse artisanal techniques in Mexico. Out of the 5,244 registered artisans with the Instituto Oaxaqueño de las Artesanías, 75% are women.
"They fight to excel every day. We always hear stories about successful women, not only in our community, but in different parts of the state. For me, a Oaxacan woman is an example of strength, "says Frida Samara Ortega, a student and artisan who shares with her family the tradition of creating amazing wood carvings and whom we meet in San Martín Tilcajete, Oaxaca.
When teaching their sons and daughters, artisan women are key to keeping knowledge alive and creating a local identity.
Nadia Clímaco Ortega, director of the Instituto Oaxaqueño de las Artesanías explains that even long before the pandemic—which has seriously impacted artisans and many other members of the tourism industry—, new generations are looking for better opportunities in other areas and outside of their communities.
In this context, she assures that the Institute seeks to create opportunities through alternatives such as sales through digital platforms with special emphasis on fair trade: "By promoting the artisans work, we are dignifying their work so they feel proud of it; proud of what they do and proud of being artisans. And at the same time, all that work should provide better living conditions for them. ".