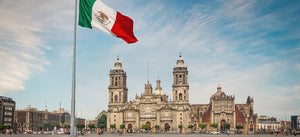 the best cities to live in the world
According to the annual survey conducted by Travel + Leisure with its travelers readers, where a mix of culture, food and friendliness was valued, Mexico has 3 in the list of the top 10 best places to live in the world. 
The conducted survey by Travel + Leisure for the 2022 edition of the World's Best Awards considers Mexico one of the best destinations to settle in. Among the highlighted comments are the mobility, quality of service, crime control and cultural offerings that each city has.
01. Oaxaca
After losing the top spot to San Miguel de Allende last year, this southwestern Mexican city has once again landed at the top of readers' list of favorite cities around the world. It's a dream gastronomic destination, especially for mole and mezcal enthusiasts. The dominant Indigenous Zapotec culture influences the local cuisine, which is on full display in Oaxaca City. (In fact, one survey respondent specifically touted the "amazing local Indigenous food.") Numerous readers also raved about Oaxaca's 17th-century architecture, enticing cocktail scene, and lively craft markets, along with the kindness of its residents. "People go out of their way to make you feel special," one voter gushed. The city's "beautiful museums, streets, cafés, and restaurants," according to another respondent, were also factors in the win.
Score: 92.96
Info: https://www.travelandleisure.com
02. San Miguel de Allende, México
03. Ubud, Indonesia
04. Florencia, Italia
05. Estambul, Turquía
06. Ciudad de México, México
07. Chiang Mai, Taliandia
08. Jaipur, India
09. Osaka, Japón
10. Udaipur, India