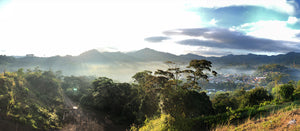 5 curiosities about Nicaragua
In This is Latin America we will guide you through a tour to know the colors and flavors of the different countries of Latin America, we will show you more about their culture, diversity and traditions.
This week we will talk about 5 curiosities about Nicaragua (the fifth one will surprise you), an incredible country known for its natural wealth.
01. nicaragua
The name of Nicaragua comes from the Nahuatl language, which translates as "Here by the water".
02. A country with varied gastronomy
Nicaragua has a wide variety of dishes, drinks and desserts. "Gallo Pinto" a dish that combines white rice with small red beans, is one of the most popular.
03. The birthplace of Rubén Darío
Rubén Darío was a poet, journalist and diplomat, considered the greatest representative of literary modernism in the Spanish language, originally from this country.
04. Nicaragua has two UNESCO World Heritage Sites
The ruins of the city of Leon and its cathedral, the largest in Central America and the third largest on the continent.
05.T he Land of the Nameless Streets

Most Nicaraguan streets have no names. Citizens have designed a referral system to locate themselves. Like a tree, a traffic light, a monument, etc.