Look inside the Oaxacan workshop
By Rodrigo Esteva Landera
With this series of photos I try to share a little of what the tourist does not see: the process that hides a piece, who Preserve and inherit the culture of pottery and textile crafts in the valleys of Oaxaca. Reflection, through their looks, what they impregnate in craftsmanship.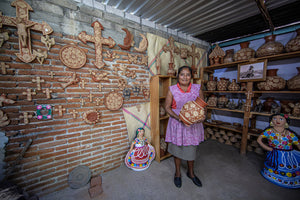 These rocks brought from the mine are transformed into the mud that gives its characteristic color to the black pottery of Oaxaca.
When they produce something, they say they "lift a piece" because they took it from the ground.
When the clay is in the state of leather, the details of the piece are smoothed and refined.
The tile used to spin the plates has been used for at least three generations. Rufina received it as a gift from her mother.
The fragility of a pot already ready for the oven requires that the artisan hold the piece with the same delicacy that would carry a baby.
In the workshop Ruíz López work the clay with the technique of pre-Hispanic lathe.